Character Design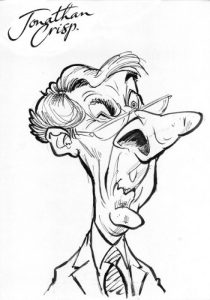 There are times when I'm sitting with my family in front of the telly that the avalanche of tripe spewing forth doesn't exactly hold my attention. As a cartoonist and caricaturist, I then tend to experience something akin to that of a smoker – my fingers get bored and need to do something. Whereas a smoker will reach for the ciggies, I reach for paper and pencil and do what comes instinctively to me – I draw faces. Sometimes I'll try and caricature the people on screen, but most of the time I just like to react to the faces and come up with not caricatures, but characters.
There are some programmes that are particularly good for a wide variety of faces. The Question Time audience is usually quite good for this – the audience should be representative of society and therefore you tend to get a range of classes, races and ages. There are slightly built individuals and portly specimens, big hair-do's and bald, bearded and clean-shaven, bespectacled and the naked eyed – all great fodder for creating characters. My work as a caricaturist (going to various events producing caricatures of this wide variety of human life) is guided by the main principle of 'getting a likeness' – obviously. But just allowing myself to stretch a face I see in any direction I wish can be quite liberating – you're not restrained by the burden of getting that likeness.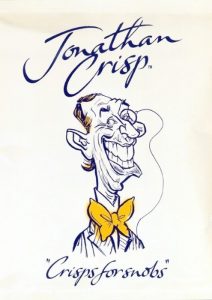 I generally don't do much with these images – they tend to get filed away for reference at some future date. One morning about 10 years ago I got a phone call from a promotional agency asking if I had any examples of faces that "weren't actual caricatures". They had seen the bulk of my caricature work and wondered if I could do something similar, but not of anyone in particular. Well, naturally I had, and I promptly dug out some of my scribbles from the telly. "Great! This is exactly what we're looking for" they said, and was asked to go along to a meeting. The project was for Jonathan Crisp packets and they were preparing to relaunch the product with a different design and wanted some 'posh characters' to represent the flavours. I managed to produce a few designs there and then and worked on the others over the next couple of months.
The packets were finally launched in 2004 and were on sale in Sainsbury's and Wetherspoons to name but two. In 2005 I was nominated for the D and AD Design Awards in the 'illustration' section. I didn't win, but it was nice to be nominated. Not bad for something that started while being bored in front of the telly!