Paul has attended 100's of events over the years where his wonderful caricatures have added entertainment, humour and a lasting reminder of the evening. 'On the spot' caricatures can be in black and white with grey shading (about 12 to 15 per hour), in colour with marker pens, or digitally on a tablet (about 8 per hour).
He can mix and mingle around the venue interacting with the guests, chatting and joking to produce caricatures that all will enjoy. Not only does the subject receive a unique memento of the event but the crowd that always surrounds Paul is entertained as they see the work unfold! He can also work unobtrusively around tables during a meal.
Paul has over 25 years of experience as a caricaturist at exhibitions, conferences and promotions where he draws people to your stand and at your stand – allowing you the time to engage with potential clients.
All of Paul's work, on paper or digital, can be annotated with your company's logo, contact details and messages for your clients.
Venues include – The Savoy Hotel, The Dorchester Hotel, Madame Tussaud's, St. James' Palace, Leeds Castle, Cafe Royal, BT Tower, HMS Belfast, Cafe de Paris, Natural History Museum, The Grosvenor House Hotel, The Waldorf Hotel, and onboard The Orient Express.
Paul's live caricature work is mainly based in London and the south-east (Kent, Surrey, Middlesex, Sussex, Essex, Buckinghamshire, Berkshire, Hertfordshire and Hampshire). However, he often travels all over the UK to attend events in Birmingham, Manchester, Bristol, Cardiff, Glasgow etc….

In addition to these, he has also worked abroad in Ireland, France, Germany and Norway.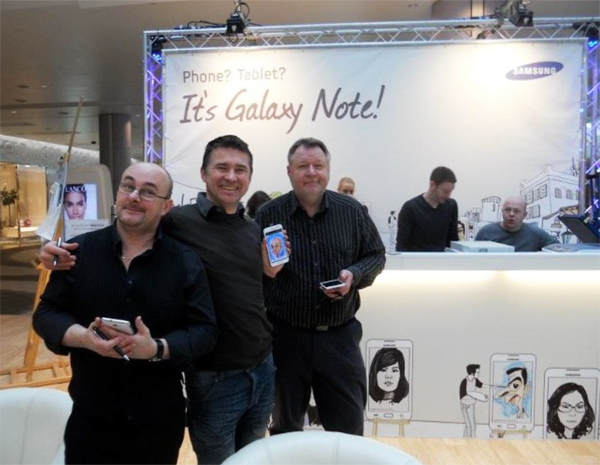 Digital Caricatures
Recently, he has taken to producing digital caricatures using the popular iPad. This allows Paul to produce instant colour caricatures that can be directly and instantly emailed to your guests and clients. In addition to this, the iPad can be connected to a plasma screen which acts as a spectacle that will have everybody watching as the caricatures come to life! This works particularly well at conferences and exhibitions. As soon as the caricature has been emailed, the recipient can then immediately use it as an icon for all their social media. The iPad can also be connected to a printer to print out A6-sized postcard prints.